Lawn Care North Castle, NY
Eco-Friendly Lawn Care in North Castle, NY
Protecting the environment one lawn at a time—call North Eastern Tree, Shrub & Lawn Care today!
The outer appearance of a home or business is where first impressions are formed. This is why many people work hard to ensure their lawn is in the best shape possible. However, traditional lawn care methods like certain fertilizers or pesticides can take a toll on the environment. North Eastern Tree, Shrub & Lawn Care makes it so that you don't have to compromise by offering great lawn care service while remaining eco-friendly. We use natural and organic treatments that keep your
lawn green
and the planet greener. If you're searching for "organic lawn care North Castle, NY," you've come to the right place. Call the team at North Eastern Tree, Shrub & Lawn Care today for your consultation! These are a few of the landscaping services we offer:
Lawn Overseeding
Tree & Shrub Care
Natural & Organic-based Lawn Care Programs
Pest Control (Mosquito, Tick, Deer)
Weed Control
Effective weed control is a large part of maintaining a healthy lawn. When weeds begin to take over your lawn, it becomes more prone to disease, grass death, and insect infestation. The best way to ward off weeds is to take a proactive approach. The North Eastern Tree, Shrub & Lawn Care team tackles weed control by offering organic pre- and postemergence treatments. Weeds are invasive plants that can grow anywhere with the right conditions. We help clients by preventing and eliminating weed growth while protecting healthy plant life. Whether your weed problem is small or large, the team at North Eastern Tree, Shrub & Lawn Care in North Castle, NY, can help you get things under control. The
common weeds found
locally are:
Buckhorn
Chickweed
Clover
Crabgrass
Dandelion
Foxtail
Goosegrass
Hawkweed
Henbit
Nutsedge
Plantain
Partnering with a trusted lawn care specialist like us will help you identify and control weed growth ahead of time.
Lawn Overseeding
Lawn overseeding helps you grow a healthy lawn by seeding over your existing grass, making it thicker and more vibrant. It is important to incorporate grasses that are indigenous to your area and local weather conditions. The grass in your yard can become thin and brittle over the years, especially if you use it regularly. Overseeding it when needed keeps it strong and resilient. North Eastern Tree, Shrub & Lawn Care offers lawn overseeding services specific to your yard and combines it with core aeration. Core aeration is a method used to break up compacted soil to increase the oxygen, water, and nutrients filtered to the roots. The humid weather in
North Castle
, combined with regular use of the lawn, can cause soil compaction. When this happens, the roots are not able to penetrate the soil, which can cause grass death and water runoff. If your lawn has become bare in places or water is pooling, you should contact a lawn care specialist in North Castle, NY. The reputable landscapers at North Eastern Tree, Shrub & Lawn Care can help you get to the root of the issue by testing your soil. Check out our
reviews
.
Lawn Fertilization
Lawn fertilization is the application of additional nutrients to your lawn. Plants need three primary nutrients to support their growth: nitrogen, phosphorus, and potassium. When these nutrients are imbalanced, it causes low soil fertility, meaning the soil can no longer support life. By regularly fertilizing your lawn, you can ensure that your yard has the nutrients it needs to thrive. A trusted lawn care specialist from North Eastern Tree, Shrub & Lawn Care in North Castle, NY, can help you determine your lawn's nutrient needs and how often to replace them.
Organic fertilizers
are a more sustainable option for enhancing plant growth and are more beneficial to the soil over time. You can read more about these services on our
blog
page.
Organic-based Lawn Care
At North Eastern Tree, Shrub & Lawn Care, we offer natural and organic lawn care programs to keep your lawn in tip-top shape while protecting the environment. Homeowners can achieve the flourishing green lawn they desire without the compromise that some chemicals offer. Clients who choose organic-based lawn care can benefit from the same standard services like weed control and fertilization but with the added benefit of using naturally sourced materials. Our natural and organic lawn care programs can help enhance the quality of your soil by improving its structure. Organic
lawn
products contain beneficial organisms similar to what would be found on the forest floor. These products are naturally beneficial to your lawn and will allow it to support diverse plant life while warding away pests and preventing weed growth. When you hire North Eastern Tree, Shrub & Lawn Care of North Castle, NY, for your lawn care servicing needs, you are partnering with landscaping professionals who are ready to make your vision a reality. Here are a few things that you can expect:
Lawn Survey
A lawn care professional will visit your site to perform a soil test and inspect your grounds. Here, they will assess your needs and determine the best course of action to get your lawn in excellent condition.
Lawn Treatment
A lawn care specialist will explain the findings of the survey and give you treatment options. You will work together to determine what makes sense for you and your lawn. Once decided, your unique treatment plan will be initiated and will continue on a regular basis.
Lawn Maintenance
The lawn care team will regularly maintain your grounds on a schedule that is consistent with your needs and lawn treatment schedule. Are you ready to transform your lawn? The lawn care professionals at North Eastern Tree, Shrub & Lawn Care in North Castle, NY, have been in business for over 20 years. The company offers numerous lawn care services in Ardsley and the surrounding communities.
If you're looking for comprehensive organic lawn care, they can't be beaten. Call now at 888-439-8733 for your complimentary consultation.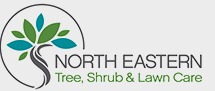 North Eastern Tree, Shrub, & Lawn Care is a family-owned and operated full service tree, shrub and lawn health care company servicing New York, New Jersey, and Connecticut since 1996.