Ensuring the Health of Your Shrubs
Healthy shrubs, trees and lawns begin with healthy soil. Plants require nutrients, like all living things, to grow and remain healthy and thrive. There are many factors affecting the health and quality of your soil, including pH, macronutrients and micronutrients. Performing a soil test will help your arborist recommend the appropriate blend of fertilizer and nutrients.
Schedule a FREE consultation with one of our expert staff members at
North Eastern Tree
, Shrub, & Lawn Care by calling (888) 439-8733. If we miss your call for any reason, you'll always hear back from us on the same day.
Fall and Spring Fertilization Programs
Fertilization treatment for shrubs and trees are enhanced with valuable micronutrients and biostimulants, creating and promoting healthier and sustainable root growth and zones.
Fall fertilization provides nutrients that plants will use during the initial spring growing period.
Spring fertilization provides plants with the nutrients used throughout the growing season.
Your North Eastern Tree, Shrub, &
Lawn Care
arborist will perform a soil test to determine what are the factors affecting your landscape, including macro and micro nutrients, pH and salt content. Based on your landscape's needs, you will receive a recommendation for the specific types and timing
fertilization needs
.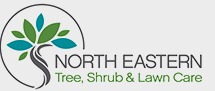 North Eastern Tree, Shrub, & Lawn Care is a family-owned and operated full service tree, shrub and lawn health care company servicing New York, New Jersey, and Connecticut since 1996.