Tick and Mosquito Control
Tick and Mosquito Control Done Right
Everyone wants to enjoy the outdoors. North Eastern Tree, Shrub, & Lawn Care can help you relax this year, thanks to our mosquito and tick services. We can help protect your family from being bothered by harmful and annoying pests that can even spread Lyme disease.
We excel in all aspects of outdoor pest control including organic tick and mosquito control keeping your family comfortable and safe. For a FREE estimate,
give us a call
or fill out our easy
online form
.
Tick, Mosquito and Deer Control
The Northeastern states have seen a dramatic increase in tick-borne diseases. It's important to proactively protect your family and pets from Lyme and other diseases. North Eastern Tree, Shrub, &
Lawn Care
offers a range of safe and effective options to control ticks, mosquito and deer, including natural and organic programs. Our licensed and certified arborists will conduct a thorough inspection to develop a program specifically designed to reduce infestations on your property.
Call (888) 439-8733 today for a complementary consultation! Some of our services can even be completed the very same day.
Organic Tick and Mosquito Control
Ticks carry many diseases that quickly transfer to humans and pets. While Lyme disease is the most common tick-associated infection, bacterial co-infections can complicate one's Lyme disease. Managing ticks requires an integrated approach including reducing tick habitats and treatments targeted to areas of the landscape specifically where ticks thrive in property borders and wooded areas.
Ticks are active year-round and can survive in temperatures below freezing, although their peak active season runs April through September. Ticks generally live two to three years and have a four-stage life cycle. Through yearly inspections, your
North Eastern Tree Care
arborist will develop a tick management program specifically designed to reduce and suppress infestations on your property.
As an alternative to traditional pesticides, North Eastern Tree, Shrub, &
Lawn Care
has been offering natural and organic control treatments for over 20 years. Our products kill on contact and provide residual control lasting 30 days.
All About Mosquitoes
Mosquitoes may be responsible for more human deaths throughout history than almost any other organism. They're a carrier for parasites, bacteria and viruses that are devastating to humans and pets.
The appearance of West Nile Virus in our area has changed our view of mosquitoes from annoying pests to dangerous disease carriers. Treating for mosquitoes can control these pests in your area. North Eastern Tree, Shrub, &
Lawn Care
offers organic sprays for mosquitoes as well as traditional products.
Does it seem that mosquitoes have become more bothersome recently? You may be experiencing a recent arrival to our area: the Asian Tiger Mosquito. Unlike our native mosquitoes, the Asian Tiger Mosquito is active during the day. Our North Eastern
Tree Care
technicians will help keep your yard and your family safe from mosquitoes.
If you want to worry less and enjoy your property more, call (888) 439-8733.
Lyme Disease
Lyme disease is spread by the bite of an infected blacklegged (deer) tick and an estimated 427,000 cases occur each year in the United States. It's therefore important to protect yourself when enjoying outdoor activities.
Practicing good tick bite prevention habits is the best way to prevent Lyme disease and other tick-borne illnesses from occurring. Simply be aware of where you walk, the clothing you wear and how often you check for ticks.
Simple Precautions Against Lyme Disease
Wear protective clothing including long-sleeve shirt tucked in at the waist, long pants tucked into high socks, closed-toe shoes and a hat. Light-colored clothing will make ticks easier to spot.
Avoid area where ticks thrive: wood piles, leaf litter, long grass, beach grass, bushy and shaded areas, stone walls and perimeters where the lawn meets the woods.
Remove clothing upon entering the home. Toss into the dryer at high temperature for 10-15 minutes to kill live ticks. Putting them in the washer, however, will not.
Examine yourself and your pets for ticks daily. Feel for bumps paying close attention to the back of knees, groin, armpits, in and behind the ears, belly button, and scalp. Check everywhere – ticks love to hide! Shower or bathe as soon as possible to wash away unattached ticks. If you find a tick, remove it quick! The longer it is attached, the more likely it will transmit a disease.
Practice smart landscaping. Ticks live in moist shady area as opposed to dry, sunny area, consider separating tick-friendly habitats from your outdoor living area with gravel or wood chips.
Protect Your Pets and Family
Tick bite prevention is crucial for all members of your family, including pets. The risk to your dog of contracting Lyme or other tick-borne disease is on the rise. Research shows that cases of Lyme and other TBDs among dogs has increased 112 percent over the last five years (according to the Companion Animal Parasite Council).
This increased risk to our pets means an increased risk to you and your family, as ticks target both ends of the leash. If your pet, particularly dogs, goes outdoors they are at an increased risk for getting a tick bite. Add to that, your pet can serve as a tick taxi and will unwittingly carry ticks inside your home, exposing you and your family to a tick bite.
By protecting your pets from ticks and their diseases, this means you're protecting your human family members as well!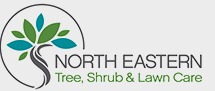 North Eastern Tree, Shrub, & Lawn Care is a family-owned and operated full service tree, shrub and lawn health care company servicing New York, New Jersey, and Connecticut since 1996.