Stopping Weeds from Taking Over Your Yard
A critical element in any successful lawn care program is weed control. Bare spots and areas of weak grass in your lawn are where weeds will sneak in and become established. Maintaining a healthy turf density is the best practice for preventing weeds in the long term, but in our environment, weeds can out-compete turf growth during the times of year when focusing on increasing turf density is impractical.
At
North Eastern Tree
, Shrub, & Lawn Care, our approach to weed control targets only those areas in your lawn that need treatment allowing the healthy portions of turf to continue to thrive. Our lawn care professionals utilize pre-emergence and post-emergent weed control treatments to establish and maintain control over the weeds in your lawn.
Our licensed and insured team will work with you to develop a lawn care program that integrates site-specific weed control treatments to keep your lawn vibrant through the seasons.
Pre- and Post-Emergence Weed Control
Experience teaches us it's better to prevent weeds from sprouting than try to control them once established. Our pre-emergence weed control treatments are carefully timed to prevent specific weeds from becoming a fixture in your lawn.
Post-emergent weed control treatments address most of the weeds already growing in your lawn.
Invasive Turf Weeds to Lookout For
The list of invasive weeds found in our lawns gets longer every year. Be on the lookout for buckhorn, chickweed, clover, crabgrass, dandelion, foxtail, goosegrass, hawkweed, henbit, nutsedge and plantain. The presence of these weeds in your lawn might warrant the use of preventive weed control treatments and could indicate the need for soil amendment to help your turf to develop so that is can compete better against weeds on its own.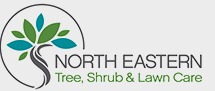 North Eastern Tree, Shrub, & Lawn Care is a family-owned and operated full service tree, shrub and lawn health care company servicing New York, New Jersey, and Connecticut since 1996.