Professional Arborist 
The team at North Eastern Tree, Shrub & Lawn Care has been Tri-State Area's trusted tree care professionals since 1996. Our ISA-certified arborists live and work in the communities we service. We are committed to helping our residential and commercial customers maintain beautiful, healthy trees, shrubs and lawns.
Think of tree care as an investment. A healthy tree increases in value with age, pays big dividends by increasing property values, beautifying your surroundings, purifying our air, and saving energy by providing cooling shade from summer's heat and protection from winter's wind. Call (888) 439-8733 today for a complementary consultation with our certified professionals. We also offer complementary property assessments.
Complete Care for Your Trees
Tree care is an essential part of having trees on your property. It's important to make sure your trees stay happy and healthy. Left uncared for, your trees could become ill and may pose a risk to residents and passersby. According to the Occupational Safety and Health Administration (OSHA), there are over 100 landscape and tree fall fatalities annually.
North Eastern Tree, Shrub & Lawn Care is the arborist Ardsley, NY, homeowners can rely on to keep their trees in great condition. We offer a range of tree care services including:
Looking for Professionals for Tree Care?
When you need an experienced arborist in Scarsdale, NY or the surrounding areas, you can depend on North Eastern Tree, Shrub & Lawn Care. With over 20 years of experience, we have the knowledge and skill you need to deliver the tree care services you want. For more information about our tree care services or to schedule a free consultation, contact us today at (888) 439-8733.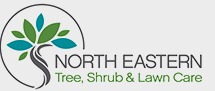 North Eastern Tree, Shrub, & Lawn Care is a family-owned and operated full service tree, shrub and lawn health care company servicing New York, New Jersey, and Connecticut since 1996.