Organic-Based Lawn Care Services
North Eastern Tree, Shrub, & Lawn Care emphasizes and offers a wide range of natural and organic services for your property.
Our natural and organic lawn care programs produce the lush, green results homeowners have come to expect from while using no synthetic chemicals or man-made materials. To bring a more natural touch to your lawn, turn to the local lawn care experts at North Eastern Tree, Shrub, & Lawn Care.
We offer a wide range of natural and organic property services. In many cases, these are our standard services that are already natural and nature-safe. In other cases, we've modified our services to ensure that all materials used are naturally sourced from plants and organic matter.
As with all our services, our natural and organic property
care services
are customized for every client and every property, ensuring you get the most out of our care and maintenance.
Pure Organic Lawn Care
The focus of our pure organic lawn care program is to improve the structure and fertility of your soils through biologically sound practices while utilizing 100 percent organic soil supplements. In turn, your soil will be able to support the dense growth of a diversity of turfgrass that will protect itself from insect pests, disease and weeds naturally.
Whether you need help at your home, business or campus, our lawn care professionals will work with you to create an eco-friendly lawn care program custom tailored to the unique demands of your landscape.
Achieve a Beautiful and Healthy Lawn
Healthy and structurally sound soils are rich in organic matter and teeming with active biology that work together to provide plants the nutrients they need as they need them. The most important component of organic lawn care is the elimination of soil compaction, which prevents needed oxygen and water from entering your turf's root zone, hampering your soils biology and limiting healthy root growth.
We employ several methods to de-compact and amend soil. A site inspection with one of our organic lawn care specialists will help to determine which is best for your lawn. 
There are many organic control products available that effectively handle insect and disease problems. We utilize a range of these controls that are OMRI (
Organic Materials Review Institute) approved as part of our organic care
programs. The intent of our pure organic lawn care program is to balance the use of controls with cultural practices, and ultimately, reduce or eliminate the need to rely on the application of controls to sustain healthy turf.
Speak with our lawn care experts to learn how we can help you achieve a beautiful and healthy lawn all season.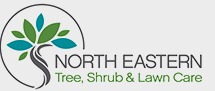 North Eastern Tree, Shrub, & Lawn Care is a family-owned and operated full service tree, shrub and lawn health care company servicing New York, New Jersey, and Connecticut since 1996.