Fertilization and Organic Care
It takes more than just planting a seed and watering it every day to grow a tree.  Every tree and shrub has unique requirements for soil type, season, and nutrients. Additionally, you must take care of it all season long to ensure it grows as anticipated.
To maintain their health and vitality, fruit plants or garden plants require the right nutrition and care.
In addition to tree pruning, trees and shrubs in our urban or suburban landscape require fertilization for optimal health, much like your lawn or flowers. For our plants to grow, we need to offer the soil around our homes, parks, and workplaces a little more nutrition since it's typically not as healthy as what can be found in nature.
North Eastern Tree, Shrub, & Lawn Care's tree and shrub fertilization services help in replacing the vital nutrients that trees and shrubs need to grow unhindered. Our tree, shrub, and lawn care services include tried-and-true techniques that take care of plant health all year round.
The fertilization service for trees and shrubs provided by North Eastern Tree, Shrub & Lawn Care enriches your soil with essential micronutrients and biostimulants for healthier roots and root growth. The plant's root zone is directly injected with nutrients and soil amendments. Some of the nutrients are immediately utilized, while others remain in the root zone for future use to stabilize your plants and trees in the winter and spring.
Contact us at +1 (888) 439-8733 or click the button below to get a free estimate today!
Benefits Of Tree and Shrub Fertilization Service
We give your landscape's trees and shrubs the essential nutrients they need to thrive, preserving nature. Overall, fertilizing your trees and shrubs with organic matter can improve their appearance, lengthen their lives, and make them healthier.
When cared for and allowed to grow organically, trees improve life for years to come in communities, cities, and even the international society.
The following are additional benefits of tree fertilization and shrub care:
It aids in promoting root growth during the winter months if the soil is not frozen.

It offers the essential nutrients that foster health and growth and ward off infections.

It helps restores nutrients that the soil lost during the summer.

It fosters new growth during the optimal growing season.

Help ensure plant growth while protecting them from the seasonal and environmental harm they experience throughout the year.

It helps to keep plants lush and green from summer till fall.
Organic Soil Treatments, Root, and Tree Care.
The health of a tree is essentially built from the ground up. Trees and shrubs can easily access the water, nutrients, and air they need to survive when the soil is healthy. Stunted growth, brittle branches, and discolored foliage are all signs of unhealthy soil. When carefully selected and administered correctly, organic treatments will provide root systems with the nutrients they require to develop strong stems and foliage.
North Eastern Tree, Shrub, & Lawn Care offers an organic tree and shrub fertilization program, which feeds the trees and shrubs right into the root system. We enrich the soil with a potent blend of organic materials and nutrients. Our care for trees and shrubs enhances the soil, giving the tree a nurturing environment.
After doing this, the plant can withstand drought stress better and absorb more nutrients, resulting in stronger trees and shrubs.
1. Organic Soil Enhancer
This process uses liquid organic matter that is rich in carbon to restore your soil's organic composition. The benefits that follow include improved soil structure, enhanced nutrient availability and retention, and greater beneficial microbial activity.
2. Soil Amendments
Plants require macronutrients and micronutrients to grow and thrive. After a visual inspection, our certified arborist may conduct a soil test. Based on the results, we prepare a custom blend of fertilizer that addresses the nutrient deficiencies in your soil. We also use compost, organic products, and specially prepared organic teas to stimulate plant health naturally.
Macronutrients include nitrogen, phosphorous, and potassium or N-P-K.

Micronutrients include boron, magnesium, manganese, iron, zinc, copper, molybdenum, and selenium.
3. Mycorrhizae Root Enhancer
These helpful fungi live in and around the roots of trees and shrubs, acting as a secondary root system that extends deep into the soil. Trees with thriving mycorrhizal root systems are healthier, more robust, and more resistant to drought and disease.
4. Organic Biostimulants
We use a variety of biostimulants, including humic and amino acids, North Atlantic sea kelp extract, natural sugars, vitamins, and other organic compounds. Biostimulants improve soil structure, root growth, and the uptake of N-P-K. Additionally, they increase plant strength and chlorophyll production and help them tolerate severe heat and cold.
Organic Treatments for Fruit Trees
This regimen of treatments aims at pest control and to reduce the frequency of insects and pathogens that attack fruit trees, improving the quality of the fruit produced.
Organic Insect Management
Our approach to managing tree insects is to use low-impact techniques and ingredients to reduce pest insect populations while preserving beneficial insects.
Rescue Treatments
Generally speaking, an entirely organic approach will be most beneficial for a property that is in pretty good health. However, certain trees and shrubs may be exhibiting symptoms of severe stress brought on by nutrient depletion, disease, or insects.
Rather than the tree removal method, we utilize a hybrid approach to swiftly address those specific issues with a "rescue treatment" while upholding your desire to maintain environmental sensitivity.
After the acute problem has been solved, an organic program is set up to produce and maintain a healthy landscape.
Complete & Certified Tree Fertilization and Organic Care Service in Tri-State Areas
If you are in or near the Scarsdale, NY area and need organic-based tree care, tree fertilization, or organic tree care, North Eastern Tree, Shrub, & Lawn Care is your go-to service.
Our organic tree care treatment programs will fertilize and care for your particular kind of tree or shrub at the perfect time, providing them with the favorable soil conditions they urgently require to be robust and healthy. North Eastern Tree, Shrub, & Lawn Care is a member of the Tree Care Industry Association(TCIA) with a team of ISA– Certified Arborists who are equipped to provide your trees and shrubs with the solutions they need to flourish.
Our organic program uses products reviewed by the Organic Materials Review Institute (OMRI). We offer organic fertilizers and naturally-based insect and disease management programs.
Products include organic materials like horticultural oil, botanical insecticide oils, insecticidal soap, pyrethrum, sea kelp, and products derived from plants and microorganisms.
Give us a call or fill out our online form for your FREE consultation from our family-owned and operated business, serving the Tri-State Areas of Connecticut, New Jersey & New York.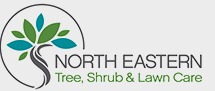 North Eastern Tree, Shrub, & Lawn Care is a family-owned and operated full service tree, shrub and lawn health care company servicing New York, New Jersey, and Connecticut since 1996.